Is it possible?  YES!
Follow our tips and you have the best chance at "This" not That!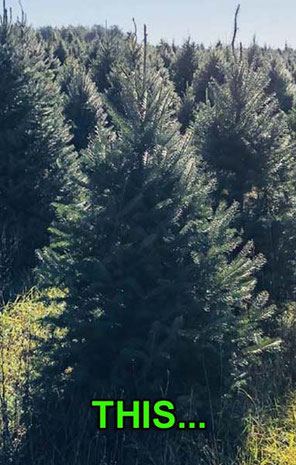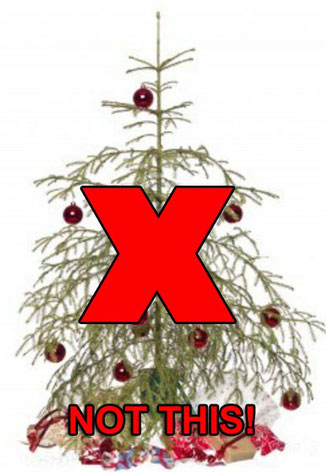 We LOVE Christmas and a Real Christmas Tree is the Focal Point of the Holidays in your home!  However,  November 1st may NOT be the best time to put up your real Christmas tree. 
Most of our species of Christmas Trees will last about 4 weeks in the house following our care guidelines.  So if you put your tree up around Thanksgiving (Nov. 28th this year), you can expect to it be just ok just after Christmas.  Wait into early December and now your tree will most likely last through New Years.  Our rule is if the needles are dropping and the branches are dry - it's time to go outside!
Fraser Fir and White Pine usually have longer lifespans in the house with proper placement and care.  We have tested Fraser Fir and gotten 6+ weeks in the past.
Each year is different mainly depending on the growing conditions the summer/fall prior to harvest. 

This may seem like a no brainer, but it is extremely important!  Real Christmas Trees do best AWAY from heat vents, fireplaces, or any other heat source.  Additionally, a house that is heated to 80 degrees will dry out a Christmas Tree faster than a house heated to 65 degrees.  Placing a Real Christmas tree in these locations can significantly reduce it's indoor lifespan and quality. 
Fire safety is extremely important.  DO NOT put candles anywhere near your Christmas tree.  It is also important to use UL listed Christmas lights.  Also pay attention to the quality of your timers and extension cords - these are not items to be cheap on. 
*Insider tip - our family has switched to LED Christmas lights in past 5 years.  Not only is our energy bill about half for this time of year, the lights are always cool to the touch on our Christmas tree.
Now that we've clarified timing and placement - let's select a tree to fit your criteria. White Pine and Fraser Fir hold up the best indoors.  Balsam Fir typically last about a month, but the fragrance is outstanding.
When you browse our locations, a tree salesman will help you find the "perfect" tree.  He/She will lift out and rotate each tree in the running to be the "one."  When we harvest the trees, they are bailed to be shipped and it is common that there will be loose needles when you take it home and initially set it up.  We do our best to shake them at our locations when they are displayed for sale. 
When considering each tree - we look at the branches.  Gently touch the tips to check needle hold.  Check that the branches are consistent on  all sides.  A well hydrated tree will usually weigh more than a dry one.  If you are not sure, ask your Tree Man/Woman and they will advise you.  We want only the best trees to find their families.
The most important tip!!!
After selecting your Real Christmas Tree, the Tree Man/Woman will ask if you would like the butt cut and any lower limbs pruned to fit in your tree stand.  Most of our customers have this done especially if they do not have a saw at home.  If you are putting the tree up that day - you are fine to take it home and get it in water as soon as possible.  We will discuss how to water in #5 below.
**If you like to get your Christmas Tree early and store it in the garage prior to putting it up in your home, you will need to recut the butt and approximately 4" or so.**
Your Real Christmas Tree does not have roots any more.  However, by cutting the butt we open the pores at the bottom of the tree to access water again until the bottom of the tree saps over again.  It will uptake water heavily for about 3-7 days depending on the tree.  A tree with a "fresh cut" on the bottom will outlast a tree that did not have this process done. 
Three words that sound so easy, but are probably the most forgotten during the Holiday Season.  It is extremely important to keep your Real Christmas Tree Hydrated!
Our family tradition is to run our water through the coffee pots (no grounds, just plain water).  When the carafe is full, simply pour into your tree stand.  You will be shocked how much water is absorbed in the first 3-7 days.  Plan on checking and refilling your stand in this period of time 1-2 times a days!
Why hot water?  It keeps the pores on the tree bottom open.  The carafe is easy to pour into the stand.  The hot water will make the fragrance of the tree come out when it's first put up and all the branches will "fall" down .  The trees were bailed for shipment and outdoor temperatures usually are too cool for the branches to return to completely level position they originally were  in the field.
INSIDER TIPS:
**NEVER let the stand get lower than 1-2" water in it.**
**WAIT at least 3-4 hours to decorate your tree with lights - this will allow the branches to "fall."  Ignore this step and your tree may look like a Popsicle.
After the first week, you will notice the water reservoir not going down as fast.  This is usually due to the butt of the tree sapping over.  At this point, we usually just use warm tap water  to fill as needed every couple days.